SmartHands aims to implement digital media in professional education and training for the health professions.
Teaching scenarios for digital media use in the domain of manual medicine and therapy are being developed and integrated into a learning platform.
With innovative technologies such as mixed reality glasses, smart wearables, haptic and brain-machine interfaces, the many innovative uses of SmartHands are made possible.
In a nutshell
What?
These problems are addressed in the project with a teaching platform that maps three innovative pilot teaching scenarios as an eLearning web solution and thus trains training and further education personnel in the teaching use of smart-device-based media. The constructed platform will be modularly expandable by further smart-device-based teaching scenarios. The optimal transfer of knowledge and the efficient use in subsequent learning scenarios will be evaluated and researched.
How?
This is because both theoretical learning from real medical cases and traditional learning on dummies or simulation patients do not correspond to reality and therefore only partially impart the necessary practical skills. Therefore, an improvement of teaching can be expected through digital media, which is more immersive and closer to real scenarios and can represent them completely. In particular, the haptics and visual response of simulated patients are fields in which such potentials are currently unfolding by means of new smart-device-based media.
Initial situation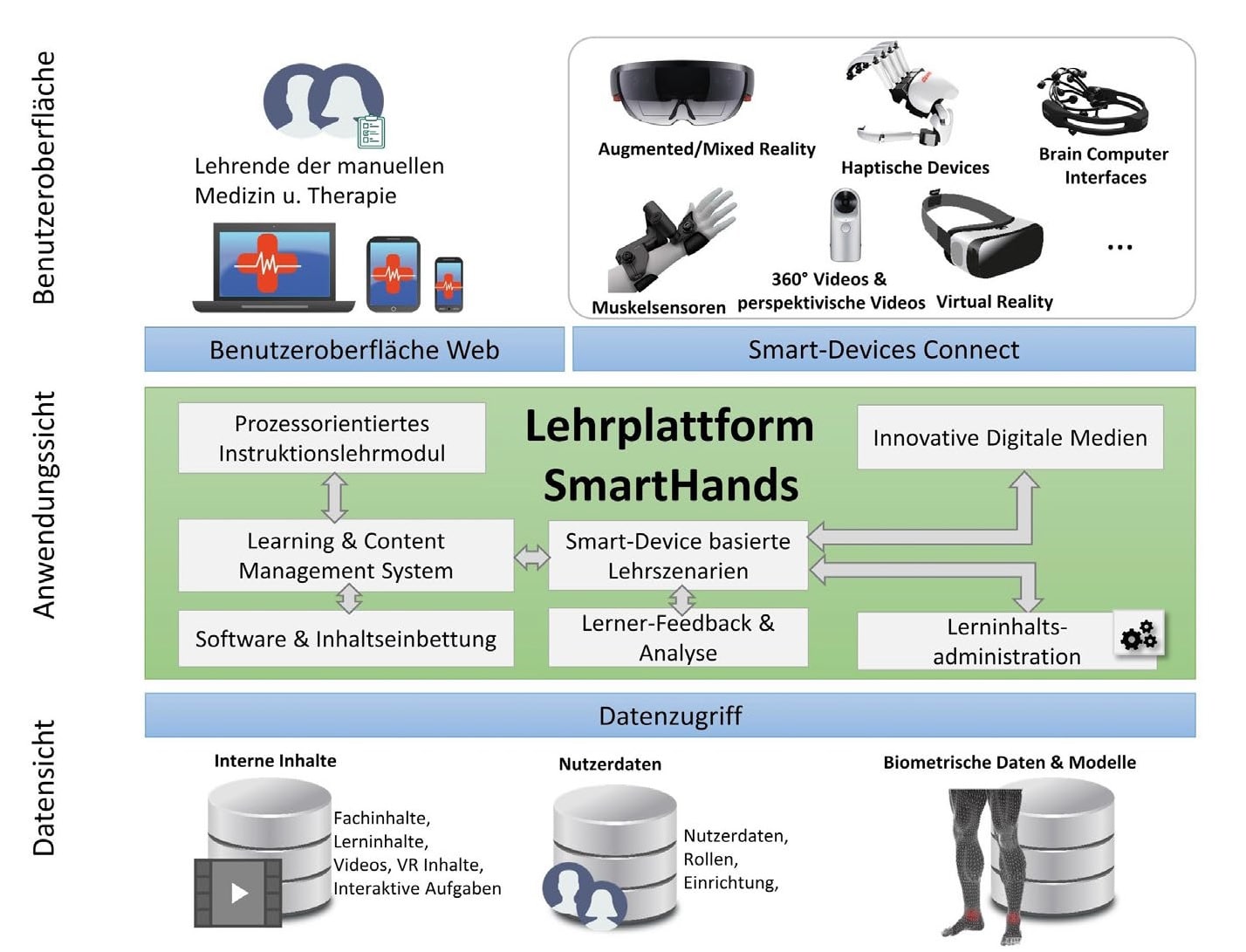 The high demand for manual medicine specialists leads to a high training requirement for education and training staff, which also creates opportunities for digitalization of the field. However, there are no validated teaching scenarios for integrating digital media into existing learning and examination formats that inform teachers about the possibilities and explanations of technical use cases.
Up to now, there have been no precise guidelines in manual medical and therapeutic teaching with regard to diagnostic and therapeutic techniques, e.g. how often and with what objective practical exercises should be performed. As a result, the need- and practice-oriented focus and the improvement of tactile and fine motor skills suffer. As soon as feedback on individual learning progress is available, this can be incorporated in order to individually adapt the teaching didactics. Only then can improved framework conditions for implementing the techniques in patient care be assumed overall.
Health workforce
5.7 million
High demand for
skilled workers
The August-Wilhelm Scheer Institute is developing the following basic component:
Pilot scenarios. The integration of haptic learning and 360-degree videos in three different mixed reality applications is addressed. We are developing the implementation of the exercise scenarios, as well as the software and the interaction of the mixed reality with the eLearning platform.
Interview with Dr. cand. rer. med. Lysann Kasprick Expert in medical education: