Digitalization is our DNA.
We work as a multidisciplinary team on the digital innovations and business models of tomorrow.
Every day we question standardized patterns of thought and combine high-tech research with practical application. This combination of science and business makes us unique. This is why we consciously choose our research areas with a view to the company of the future. What does a Super Smart Enterprise look like in 2035? How does it work? How is it organized? How will it earn money? These overarching questions are our motivation.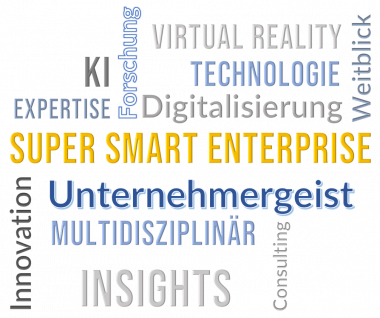 The company of the future will increasingly encounter a diversified and fast-moving market. New market participants and business models are emerging in record time and can change customer needs overnight. A Super Smart Enterprise must therefore be able to pay attention to and adapt to the constantly changing environment. Six core topics will influence the development around the Super Smart Enterprise. For this reason, we look beyond the informative horizon every day and enrich technological research with interdisciplinary expertise and practical experience.
Founded in 2014 by August-Wilhelm Scheer and privately owned by the foundation, we work independently as a non-profit research institute and select our projects with a view to their future economic and social significance. Our research projects range from artificial intelligence to virtual reality. Due to our location on the campus of Saarland University, one of the best German universities in the field of computer science, there is a strong connection to high technology topics. We always keep in mind that the best results can be achieved by combining people and technology.